Franklin Primary Health Center, Inc.

Mission & Vision
To be a compassionate and viable Community Health Center.

Health Care Services
Americans want better health. Better health can be achieved through prevention.

Message from the CEO
Greetings and welcome to Franklin Primary Health Center Inc.'s new website.
Franklin Primary Health Center is a non-profit, federally qualified health center founded in 1975 by Dr. Marilyn Aiello and a group of concerned citizens who recognized the need for quality health care in the underserved Davis Avenue community (now Dr. Martin Luther King, Jr. Avenue community).
Franklin Primary Health Center is named after Dr. James Alexander Franklin, a physician, scholar, and humanitarian who faithfully served his community for over 60 years.
Under the leadership of Charles White, CEO, Franklin continues to ensure that everyone, no matter who they are or what they have, has access to quality health care services.
Franklin consists of twenty-one locations in 6 counties (Mobile, Baldwin, Choctaw, Escambia, Monroe and Conecuh) in Alabama. The services provided by Franklin includes pediatrics, OB/GYN, family medicine, internal medicine, geriatrics, rheumatology, dentistry, optometry, physical therapy, nutrition services, wellness & fitness, social services, substance abuse prevention and treatment, HIV/AIDS services including case management, health education, pharmacy, laboratory, x-ray, and transportation services for the homeless.
As a patient of Franklin you can save money on your health
care costs.

Patients without insurance are charged according to their ability to pay.
Patients without prescription drug coverage can receive reduced costs at our pharmacy based on
their income and some patients can receive free or reduced prescription drug costs through
various prescription assistance programs.
Quality comprehensive outpatient health care service
Franklin is accredited by the Joint Commission on Accreditation on Health Care Organizations.
This is the same accreditation that hospitals are required to receive. No other
private physician office in our area has this accreditation.
Franklin offers the most comprehensive array of services than any other physician
group in our area.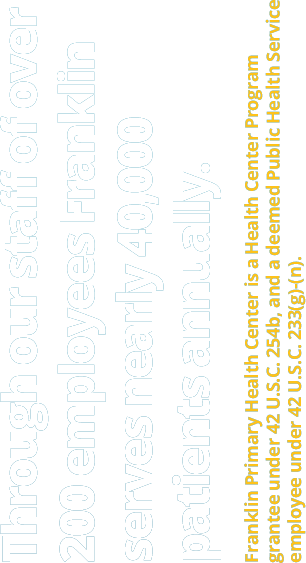 Franklin Medical Mall
1303 Dr Martin Luther King Jr Ave, Mobile, AL 36603, USA
251-432-4117 (ph)
Foley School Based Health Center
301 W Laurel Ave, Foley, AL 36535, USA
251-424-1340 (ph)
Aiello/Buskey Medical Center
424 S Wilson Ave, Prichard, AL 36610, USA
251-452-1442 (ph)
Dr. Albert Thomas Medical Center
510 S Wilson Ave, Prichard, AL 36610, USA
251-301-7011 (ph)
Brewton Family Dental Center
1115 Azalea Pl, Brewton, AL 36426, USA
251-867-8020 (ph)
Central Plaza Towers Medical Center
300 Bay Shore Ave, Mobile, AL 36607, USA
251-478-5005 (ph)
Evergreen Family Medical Center
316 N Main St, Evergreen, AL 36401, USA
251-578-2507 (ph)
Evergreen Family Medical Center
316 N Main St, Evergreen, AL 36401, USA
251-578-2507 (ph)
Franklin Medical & Dental Express
1303 Dr Martin Luther King Jr Ave, Mobile, AL 36603, USA
251-432-4117 (ph)
Frisco City Family Medical Center
53 Mulberry St, Frisco City, AL 36445, USA
251-267-2880 (ph)
Gilbertown Medical & Dental Center
Front St, Gilbertown, AL 36908, USA
251-843-5537 (ph)
Hadley Medical Center
572 Stanton Rd, Mobile, AL 36617, USA
251-444-1000 (ph)
H.E. Savage Memorial Center
1201 SpringHill Ave, Mobile, AL 36604, USA
251-694-1801 (ph)
J.R. Thomas Wellness, Fitness & Rehabilitation Center
1361 Dr Martin Luther King Jr Ave, Mobile, AL 36603, USA
251-432-7189 (ph)
Hours of Operation
Monday 7am -7pm
Tuesday 8am - 7pm
Wednesday 7am -7pm
Thursday 8am - 7pm
Friday 7am - 6pm
Loxley Family Medical Center
1083 E Relham Dr, Loxley, AL 36551, USA
251-964-4011 (ph)
Loxley Family Dental Center
3147 1st Ave, Loxley, AL 36551, USA
251-964-2404 (ph)
Lower Alabama Family Medical Center
1205 Belleville Ave, Brewton, AL 36426, USA
251-867-3608 (ph)
Maysville Medical Center
1956 Duval St, Mobile, AL 36606, USA
251-471-3747 (ph)
North Baldwin Family Health Center
201 D'Olive St, Bay Minette, AL 36507, USA
251-706-8700 (ph)
Prevention, Education & Counseling Center
510 S Wilson Ave, Prichard, AL 36610, USA
251-434-8195 (ph)
South Baldwin Family Health Center
1628 N McKenzie St, Foley, AL 36535, USA
251-947-1083 (ph)
West Escambia Family Medical Center
408 Medical Park Dr, Atmore, AL 36502, USA
251-368-3141 (ph)
West Mobile Family Medical Center
801 S University Blvd, Mobile, AL 36609, USA
251-344-1964 (ph)
Franklin Family Medical Center
103 Elliott Street, Brewton, AL 36426
(251) 236-8250 (ph)
South Mobile Family Dental Center
13040 South Wintzell Ave, Bayou La Batre, AL 36509, USA
251-459-8980 (ph)